The result of true community spirit!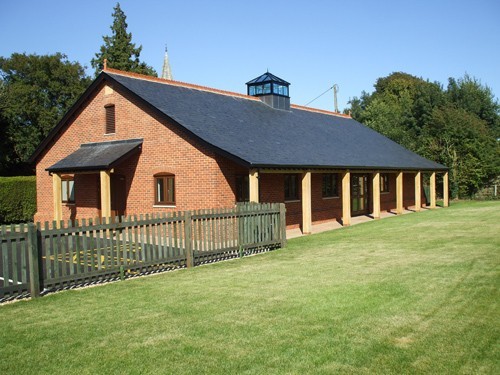 The hall is run by a committee of villagers, for the village & all of its users. It was built in 2009, on the site of the old hall, which was in desperate need of replacement. This was thanks to various community fundraising events, and the help of a grant from our local council and a Lottery grant as well.
The hall is fully equipped for all your needs, including a large open hall, kitchen, dedicated meeting room and an enclosed lawned garden. The hall is available for meetings, social groups, classes and private parties. We also have WIFI now available throughout the hall at no extra charge.
Main Hall
The main hall is 29ft x 29ft (8.8m x 8.8m) and has a central glass tower to let in additional natural light. There are four air con/heater units, two at each end of the hall which maintain the hall at a comfortable temperature; all are very quiet whilst in operation and are not a source of distraction. French windows open out onto the veranda and open grass area, ideal for summer parties.
Sound insulation panels are fitted to the main hall & meeting room.
Around 106 people can be seated for a formal meeting arrangement or around 180 people for a social event.
Meeting Room
The meeting room is just off of the foyer, measuring 16ft x 11.5ft (4.9m x 3.5m) and has access to the main hall through a set of double doors. There is a ceiling heater/air con system and a small pull-down projector screen ideal for presentations (please note that no projector is provided when hiring the meeting room). Along with the new WIFI availability, access to the internet is a breeze with the fast internet connection.
The room comfortably sits 12 people.
Kitchen
The kitchen is situated at the far end of the hall and has been fitted with an electric hatch for easier serving. The kitchen has two cookers and an electric touch control hob with four rings. There is also an 1800w microwave oven and a large 321ltr fridge with extra cooling facility, a kettle, coffee maker, 27ltr hot water urn, 2 x 5ltr air pots (thermal flasks for storing hot water or coffee) and a 4-slice toaster. Also, a commercial size dishwasher is available to help with all the cleaning.
The main sink is fitted with double drainers and there is also a hand washing and food preparation sink.
Exterior
The car park has 18 spaces including a disabled bay that is close to the main door. The large lawned area is enclosed by a fence making it safe for children's parties by segregating it from the car park. This area is south facing and benefits from plenty of sunshine (weather permitting).
For more information about the village hall or to enquire about booking it for your next event, please visit their website.